2022 Q4 e-tron at Audi Ottawa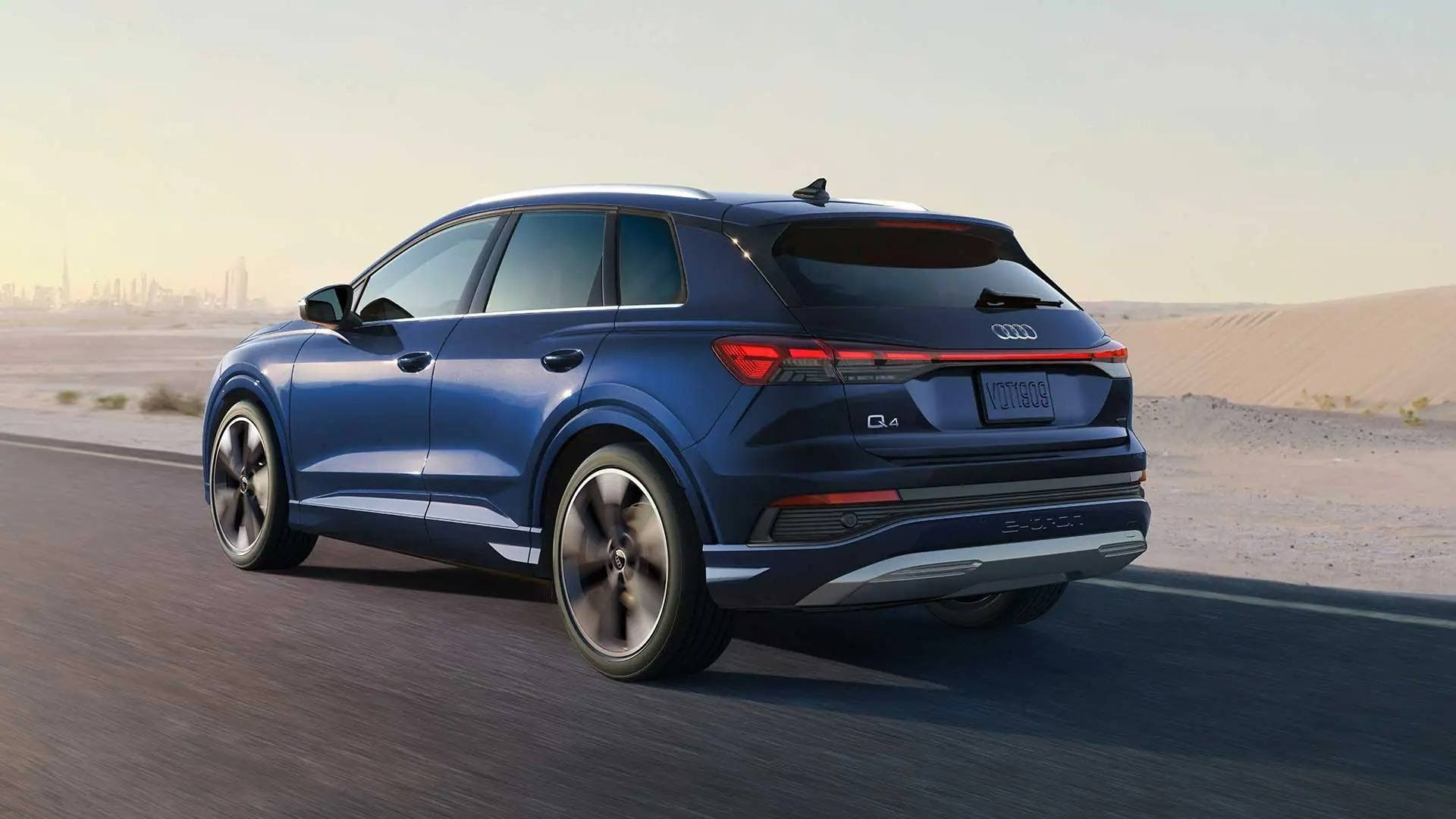 Debuting and expanding the Audi electric family, the 2022 Audi Q4 e-tron and Q4 e-tron Sportback are some of the finest vehicular examples of performance and efficiency. Get features you demand from an Audi SUV, premium comfort, powerful performance, driving assists, and more, all wrapped in the green power of an all-electric vehicle. The 2022 Audi Q4 e-tron and Q4 e-tron Sportback are ready to debut in Ontario, and will, of course, be available at your go-to local luxury automotive dealer,
Audi Ottawa
. Learn more about the benefits of going all-electric with the Q4 e-tron as our team walks you through all of the essential specs, design, performance, technology and more.
Exterior & Interior Design
Exterior
Ambitious in design, the 2022 Audi Q4 e-tron is undoubtedly stylish, as it borrows from the boldly designed Audi e-tron GT. Whether your eye is drawn to the muscular front-fascia, sloping roofline or full-width LED taillights, the Q4 e-tron is crafted to impress.
Matrix LED Headlights
Found on the Technik trim of the Audi Q4 e-tron are Matrix LED headlights, premium lighting for every journey. Also, discover customizable daytime running light signatures, with 4 different designs to leave you in awe.
Interior Delights
Because it wouldn't be an Audi if your interior wasn't outfitted with only the best materials available. High-quality leather seating is standard, and interior design cues are purposely made to accommodate you the most in your day-to-day life. Bottle holders can be found in all four doors and the centre console has excess room for all your most valuable items. Also, bringing any piece of cargo or equipment is made easy thanks to 40/20/40 split-folding rear seats.
Quattro Technology
No matter what challenges the weather may bring in Ontario, you'll always be prepared in the 2022 Audi Q4 e-tron thanks to Audi's all-wheel drive, quattro technology. Lending a dynamic drive and exceptional control on every turn, keeping your driving confidence high.
Paddle Shifters
Explore the 3 different braking recuperation levels on your Q4 e-tron, with convenient paddle shifters located on the heated steering wheel. Drivers can also elect to choose automatic recuperation, done through the Q4 e-tron's MMI system.
Electric Power
Forget about an internal combustible engine when you can have the elite efficiency of the 82 kWh battery, powering the Q4 e-tron. That battery also delivers deceptive power, a full 295 horsepower, and charging is speedy with 38 minutes taking you from 5% to 80% on a public DC fast charger, you'll be quick to abandon gasoline alternatives.
Audi Connect
Audi's very own navigation and digital assistance system is here for you when you need it in the Q4 e-tron. Audi connect features navigation, remote vehicle services, car finder, roadside assistance and more.
Augmented Reality Head-up Display
Projecting essential vehicle information right onto your windshield, Audi's augmented reality head-up display feels like you're driving in the future, today. As the first-ever Audi vehicle with this available technology, you'll be part of history.
SONOS Premium Sound
Discover a premium sound system that Audi is characteristic of, whether you're opting for an electric, gasoline, or hybrid-powered vehicle. The SONOS premium sound system delivers exceptional sound quality, for an unforgettable experience that will make you look forward to every drive.
Audi Pre Sense
Have a co-pilot that constantly watches your back with Audi Pre Sense technology. This system works by scanning the road ahead of you for vehicles, pedestrians, and other hazards, giving an audible and visual warning in case of collision.
Gridlock Support
Rush hour and heavy traffic can be a drag, however, Audi has a solution for that thanks to adaptive cruise assist and Traffic Jam assist. These assists work in tandem, as your Audi will maintain a pre-set distance from the vehicle ahead of you, and will utilize the throttle, brakes and steering.
Side Assist
Always keep your blind spot covered with Audi side assist. This system actively scans one of your vehicle's most vulnerable areas and will optically alert you if a vehicle is quickly approaching or currently in your blind spot.
Audi Ottawa has you covered when it comes to customizing the Q4 e-tron to your liking. Choose from genuine Audi accessories to elevate performance, style, functionality and so much more. We have experts on hand to help you out in a pinch.
Audi Accessories are broken down into 5 categories:
Wheels & Tires
Sport & Design
Transport
Communications
Comfort & Protection
Parts & Accessories Specials
The 2022 Audi Q4 e-tron is a first-ever for Audi, and sees some similar competition in the segment. Sitting directly between the Audi Q3 and the Audi Q5, both models exist as fantastic choices, in similar styles, if you're not looking for the all-electric ability of the Q4 e-tron. Fresh on the scene as well is the Tesla Model Y, but comes at a base price that starts $17,000 higher than the Q4 e-tron. The Volkswagen ID.4 offers another electric crossover SUV option in the segment, but lacks the refined luxury touches that the Audi delivers.
Audi Q3 & Q5
Tesla Model Y
Volkswagen ID.4
What's New on the 2022 Audi Q4 e-tron?
Debuting for the 2022 model year, the Audi Q4 e-tron and the Sportback are brand-new models.
2022 Audi Q4 e-tron Models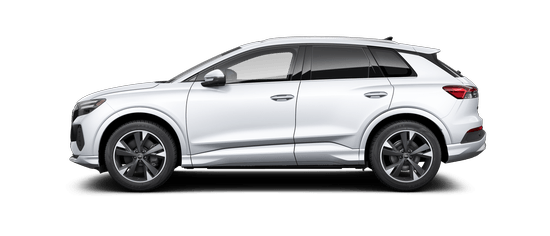 Q4 e-tron
Starting at $59,950*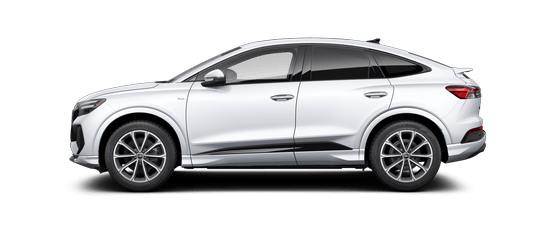 Q4 Sportback e-tron
Starting at *
Delivering a brand new electric vehicle experience, discover the benefits of going all-electric with Audi's first-ever Q4 e-tron, debuting for the 2022 model year. Get all you've come to expect from an Audi, with dynamic performance, gorgeous styling, and the very best technology and comforts. If you're not ready to make the jump to electric vehicles in Ontario, Audi Ottawa has you covered with the rest of the Audi model lineup. Whether you're looking for a petrol-powered luxury sedan like the Audi A3 or an efficient hybrid SUV like the Audi Q5 TFSI e, you'll have numerous options to choose from. Shop new and certified pre-owned vehicles, book your service with us, shop tires, and more. Book your test drive with Audi and contact our team, today.
Make an Inquiry